2019-2022: the big life update...
Prologue
Welcome back to my own little corner of the internet (and your inbox!)
After the big relaunch last time around, I wanted to share a personal update for those of you that I haven't chatted with recently.
Thanks for reading The TibzLetter! Subscribe for free to receive new posts and support my work.
Maybe the best way to get you caught up on what happened is to start with to last summer would be via this video I published in the summer of 2021, as a follow-up to the Year of Travel Vlogging:
Now, on to our main course:
On our life in Paris
Since moving to Paris in early 2019, we've been living in the northern 18th arrondissement, just under the famous Sacré Coeur basilica. It is a popular, more affordable neighborhood, where you can find a mix of locals living in the area, along with lots of tourists during mid-day and most weekends.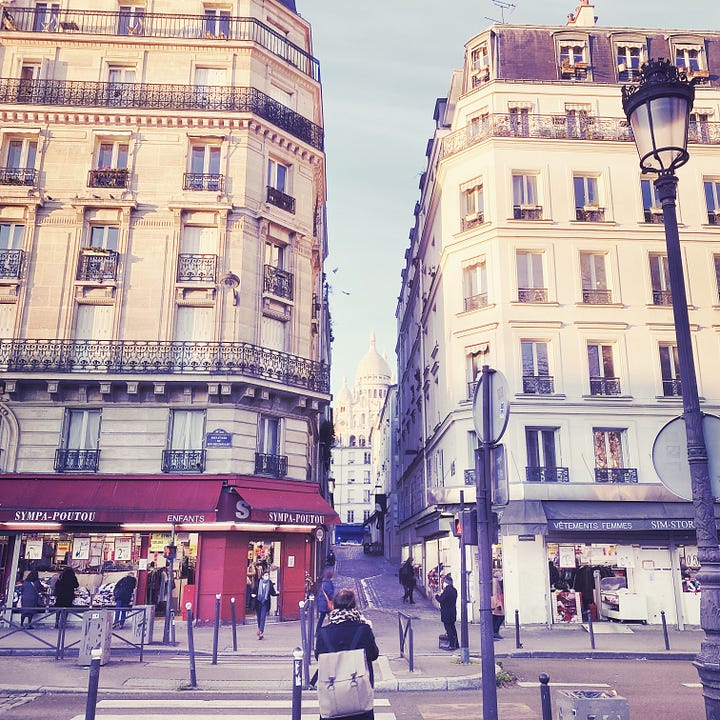 One of the lovely things about the area is that it remains relatively close to the center of the city (it takes us 25mn to walk down to the heart of town, in the Châtelet Les Halles area) while still being affordable and lively.
As I'm writing this, we've just moved to a brand new apartment last weekend ; we bought this place sur plan 3 years ago: we discovered this real estate project and purchased the apartment based on a map and small-sized replica of the apartment complex.
We're located just outside of the city, walking/biking distance from the city limits, in a new construction, where (once we're finished furnishing and decorating) we'll be able to express our shared identities and personalities through our own decoration and design.
On this topic, Shana has her own newsletter, and I highly recommend you subscribe: she goes deep on artistry, interior design & decoration, and how culture, identity, and race affect our perception of these things.
At the time when we first put down the offer on the apartment, back in December 2019, we obviously had no idea about what the future would hold, and the delays that would ensue: just like everyone, the construction was affected by Covid, logistical & supply chain issues, and the Russian invasion of Ukraine.
After almost exactly 3 years, we've just moved in, and starting a new chapter of our lives. I guess this newsletter is published at the right time.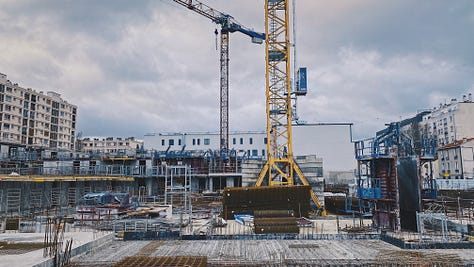 On my personal belief system
Writing this in early November, I'm looking back at the past year with a particular feeling of gratefulness when I think of the past 12 months.
During that period of time, I've been able to change my job (more on this in the next newsletter), travel both for business & pleasure, and cheer on my wife's growing business and artistry. At the same time, our families are healthy, our friends are doing great, and we truly have nothing to complain about.
Life isn't without its ups and downs, of course, but when I look at the bigger picture, I feel like everything has been trending in an upward trajectory for a while, with plenty more to look forward to in the future.
This feeling of looking at the positive is one that I want to continue cultivating, through good and bad times: enjoying the present when I can.
On enjoying the little things, post-pandemic
Speaking of good times, I'm really happy with how we've changed our routines, since the pandemic-related lockdowns and restrictions of 2020.
During the time when our physical moves were limited, we started paying a lot more attention to our neighborhood, and investing our time & money around our community.
And we've kept these good habits to this day: We're trying to shop locally, prioritizing the local butcher shop, fishmonger, baker, or fruits & vegetables grocer, rather than going to the supermarket.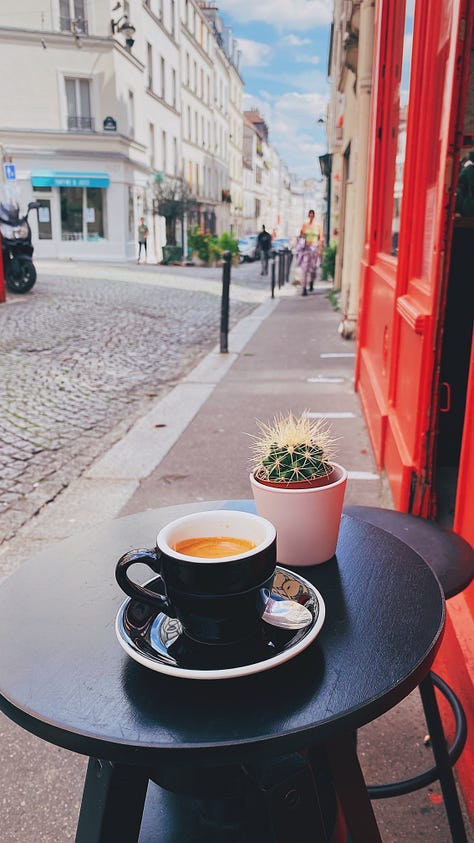 A perfect evening date for us can mean going to these local shopkeepers to pick up and cooking a long meal and opening a bottle of wine together, finishing off the evening by watching a show we love on the couch and discussing the story development in front of us.
Or it can be as simple as going to the family-owned restaurant next door and treating ourselves to a drink and a 3-course meal, discovering new flavors or revisiting old favorites.
The key to our happiness has been to keep things simple and enjoy the little things: the ability to share breakfast together almost every morning, listen to music, making coffee, or enjoying a drink as we catchup on our days.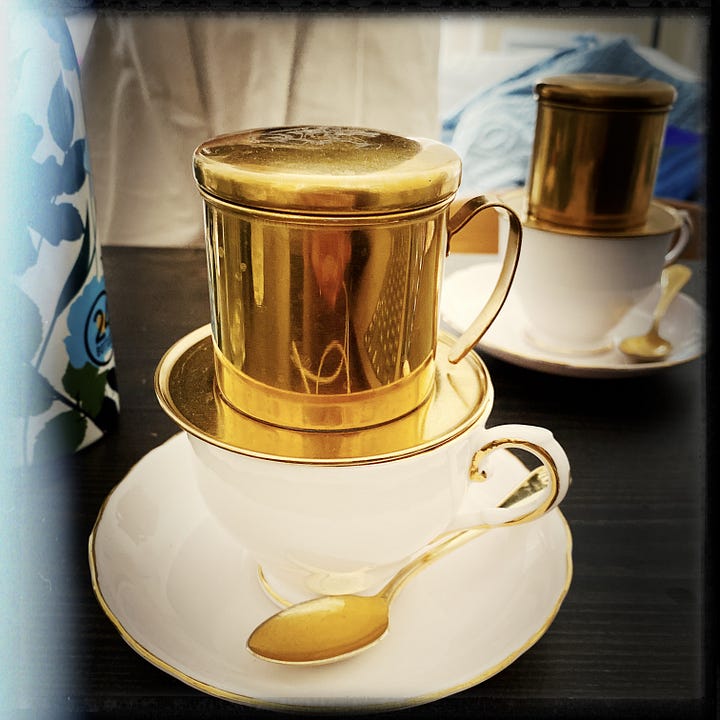 On friendship
Since we moved to Paris, we've been more comfortable in knowing ourselves, what we like and dislike, and what makes sense for us. We've been able to reinvent ourselves and focus on what makes us happy.
We're grateful for the friends we've met here, whether through work, shared connections, or by rekindling old friendships. We've had a number of visitors passing by the city too, with whom we're always happy to spend a Parisian evening with, or introduce them to our experience of Paris.
Little by little, we're recreating our social circles with people we feel comfortable with: expats, local frenchies & Parisians, mixed couples (Franco-Americans), and other individuals with interesting personalities.
Most of the people reading this will be part of this group, of course, and we're grateful to have all of you in our lives — regardless of geographical distance or how frequently we get to see you all.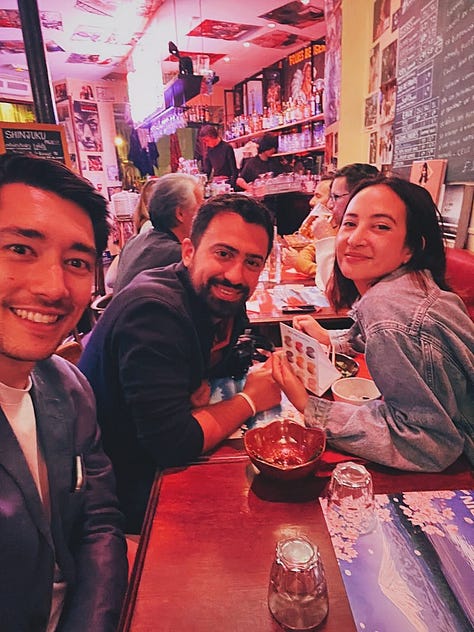 ---
Epilogue
What started as a 'personal update' turned into a 'train of thought' writing exercise. For the next update, I'll be sharing more details about my professional life and how I got to join the startup I've been involved with since December 2021.
But before I leave you, I've got one last thing…
My question for you:
What is one positive thing that you took away from the pandemic?
Respond by email or even better, in the comments section below.
Thanks for reading The TibzLetter! Subscribe for free to receive new posts and support my work.