Allow me to (re-)introduce myself
Lately I've been wanting to exchange more of my thoughts with like-minded individual. It's an interesting time to share one's ideas, obviously. And even for us here in the technology field, things are moving fast.
Today, I want to share five articles, on five different topics that I feel are important to help us understand the future.
But first…
---
Allow me to (re-)introduce myself
Hi, I'm Tibz. A Frenchman currently living in Dublin, and working as a Digital Consultant. Every two weeks, I'm going to share my thoughts about what's happening in technology.
What I like about this format is that I can share my thoughts freely. So, sometimes I'll deviate from tech industry commentary and share a more personal part of my workflow or some of the projects I have in mind.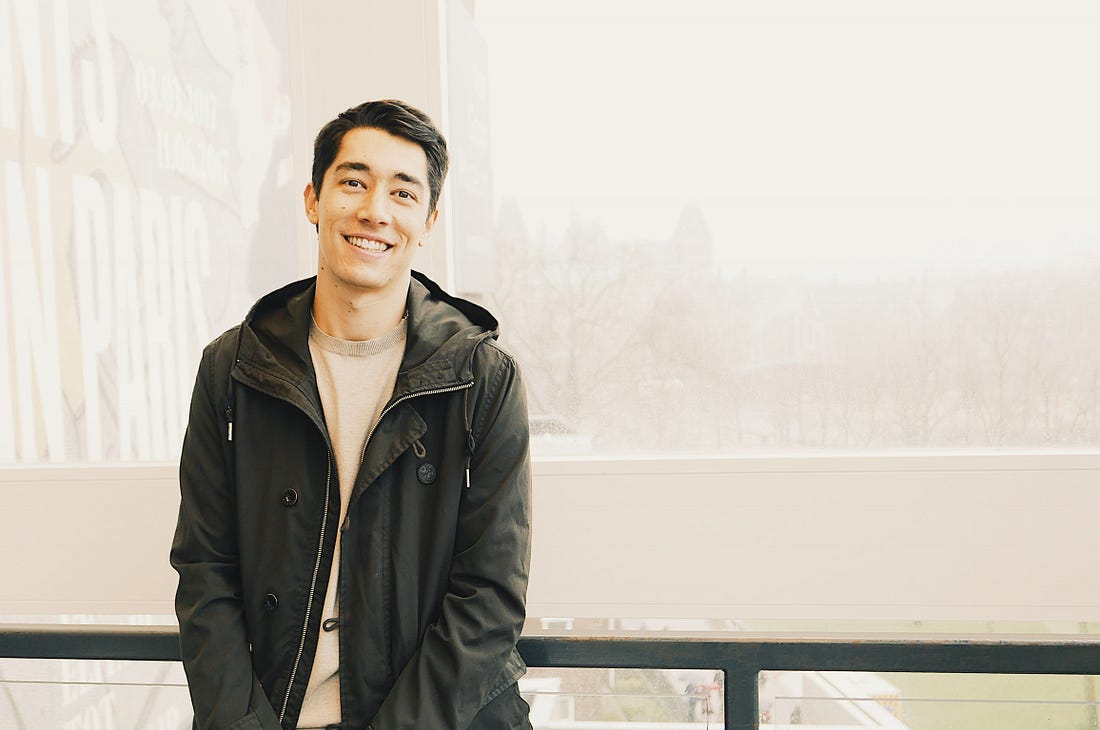 I hope to make it interesting for you, and I expect that you'll help me by sharing your honest feedback.
And now, let's talk Tech !
---
One thing to read:
Over the weekend, I really liked reading this piece on Wired about how Amazon transformed itself to become arguably one of the biggest powerhouses in Artificial Intelligence and Machine Learning.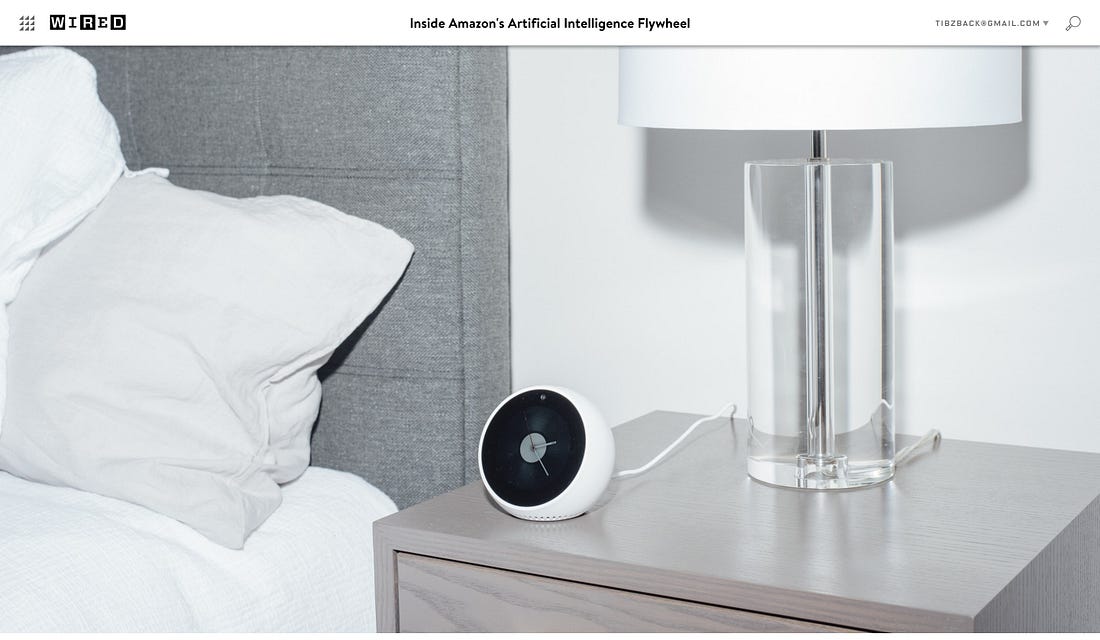 It all started when Amazon, realizing that it was unable to compete with Microsoft, Facebook, and Google, tried to acquire the top talents in those fields. Their responses :
'Why would I want to work at Amazon—I'm not interested in selling people products!'
So Amazon started using its immense amount of cash to acquire decent startups in natural language understanding, voice recognition, and other related fields. They started off with what they knew, and took a leap of faith by rebuilding the recommendation engine. At the same time, they were also starting work on the Amazon Echo.
As the Alexa-powered assistant was released, the different internal teams started collaborating a bit more, reusing the technology that one department had cooked up, and integrating it with another products from Amazon Photos to the company's cloud infrastructure Amazon Web Services.
And Amazon started really making strides after that. After allowing internal uses, they also offered their unique insight in AI and ML to be leveraged by external companies too. After all, companies ranging from garage startups to Pinterest and Netflix all use Amazon's services in one way or another. Now any company can offer their products and services on the latest and greatest gadgets : Amazon's voice-powered home speakers.
The results ?
"Amazon started amassing a wealth of data—quite possibly the biggest collection of interactions of any conversation-driven device ever."
The reason I picked this article to share with you is because I think this matters because there are a lot of companies still trying to navigate through becoming more agile, surviving an incredibly complex business era and competitive marketplace and achieving this Digital Transformation everyone in the corporate business world talks about.
But if a company like Amazon has managed to turn itself from lagging to a leader in the field, there are no reasons that smaller companies have to suffer in the upcoming Golden Age of AI.
---
Other good reads
Basic Income
I keep hearing about automation and robots taking over human jobs. But Universal Basic Income has been a much more discrete topic lately. As I make my way through older articles saved in Instapaper, I invite you to revisit this idea via Fast Company.
Social Media
My use of Social Media has evolved quite a bit in the past few months. I'll get back to the apps I use in a future issue, however, more than anything, I want to talk about Pinterest.
I'm positively surprised by the impact and continued usage of this social network. A couple of years ago, they were all the rage in the world of tech startups. However I can't remember the last time I heard about the company in the news in a way that we hear about every new feature coming to Snapchat or Instagram.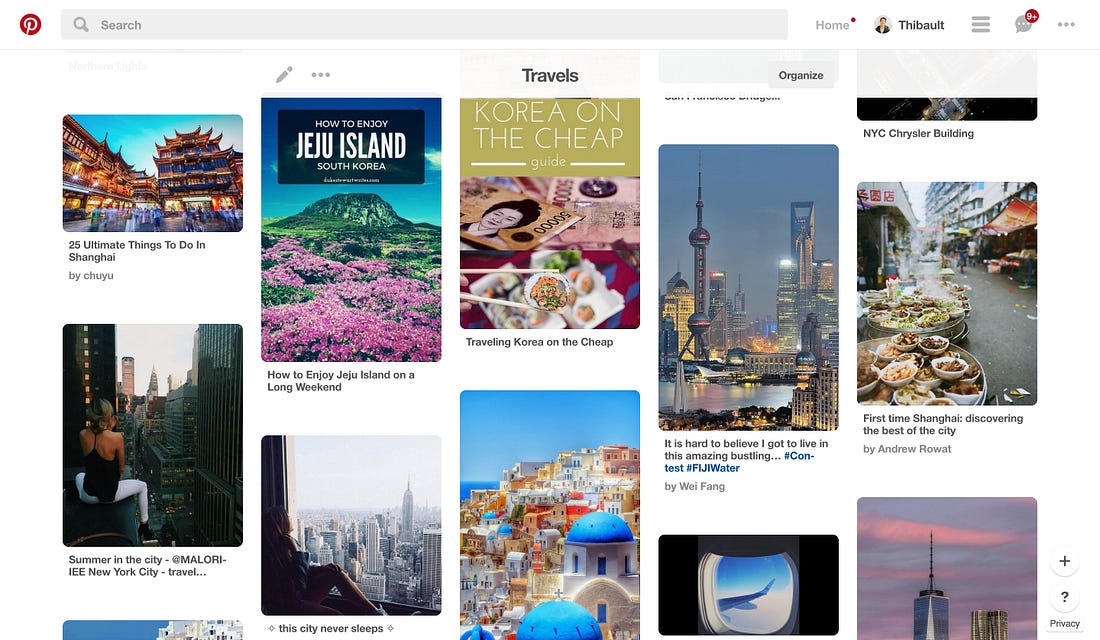 With that in mind, I caught up on the company's latest by going through to this interview for Bloomberg. It's fascinating : in addition to continuing to make money, and looking to become profitable, they've reinvented themselves into a "visual search" company.
It's been fascinating to see my girlfriend use it almost every day, pinning away home decoration inspiration as well as searching for new recipes. She also uses it when looking for info-graphics on a given topic, which makes sense. But my favorite new feature to play with is their "Lens" feature, which lets you use your phone's camera to point at an object in front of you, and Pinterest automatically recognizes the object, tells you what it is, shows related pins, and can even help you buy the item.
A very cool feature from an underdog of a company acting in the shadows. Gotta love that!
Privacy
By now, you've probably heard about the latest privacy debacle related to the Strava running/cycling app. If you want my take on it, it's a short read available on my own blog.
In short: We're too often prone to giving up a little privacy in exchange for a few ads, and access to features/information/social exposure. But maybe it shouldn't have to be this way.
Startups Advice
Wanna hear a recent piece of advice from a friend?
(It helps that the friend in question is the recently appointed new Managing Director at Techstars London)
Apple
By now you must have read about Apple's connected speaker, the HomePod. It just got released this past week.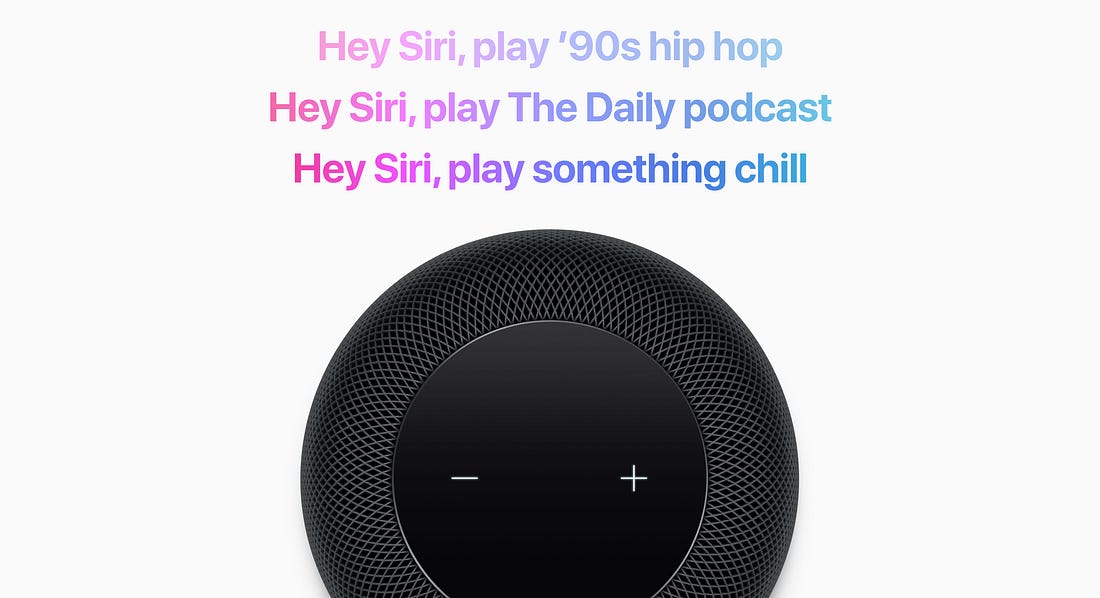 The reviews are out and there's some good and some bad. On the music front, it sounds like it's a great speaker on paper, with a strong emphasis on great audio quality.
However, where the sound quality is its strength, it looks like Software and its related features are actually where the product lacks. It ranges from being exclusively compatible with Apple Music (as this Apple follower would expect), to other issues related to the lack of recognition for other voices than its primary users.
Another thing that stands out is how much better Google's Voice assistant and Amazon's Alexa are, in comparison to Siri. Obviously this boils down to both Amazon and Google dealing with a lot more customer data to play with, and Apple's continued efforts to respect its customers privacy. But it also highlights the lack of integration with third-party apps, and issues with Siri understanding human input.
Here's hoping that these drawbacks can be addressed soon over iterating software updates.
---
That's it for this week. This newsletter is a big and ongoing work-in-progress for me, and I look forward to writing more for you in the future. I'd like to continue sharing my opinion, as well as my workflow and the apps I use with you.
So in an effort to help me improve, please let me know what you think about this first edition.
Until next time,
—Tibz